Personalized Valentine Gifts
What a GREAT Valentines gift idea!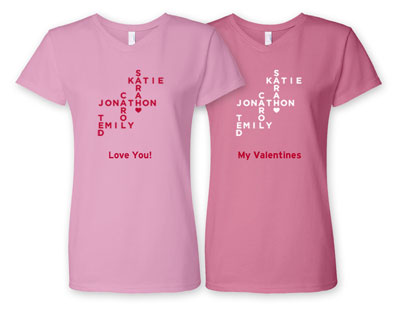 Valentines Day is special and should be celebrated with an equally special gift. This year give your loved ones a cool gift that tells them how important they are in your life.
Start designing your a unique valentine gifts for that someone special! A Family Matrix gift could be given to show that special person in your life that you care.
By spending just a few minutes on this site, you can create a unique and one-of-a-kind valentine gift, the best valentine gift for loved ones of all ages.
Family Matrix is a fantastic gift for your mother's, dad's wife's, daughters's, and, of course, that "Special Love". Imagine designing a uniquely personalized valentine gift for your loved ones that include the names of all their of all their children shown in a crossword style design. Family Matrix shirts make a perfect gift for any occasion.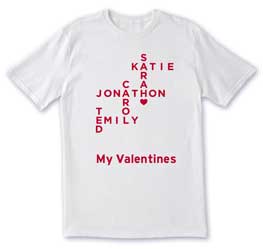 You could design a Family Matrix mug that would be the BEST valentines gift ever for your loved one. Kids love to see their names on these shirts.
This valentinve gift is so special because it is personalized and also because it looks like you spent a lot of time creating it, when you actually spent ONLY a few short minutes on the Family Matrix web site. Remember Family Matrix when choosing your next special valentines gift for your loved ones.