Personalized Birthday Gifts
What a GREAT birthday gift idea!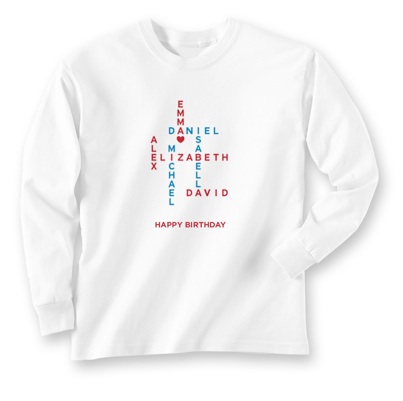 Every birthday is special and should be celebrated with family and friends. This year give your loved ones a cool gift that reminds them of everyone in the family with a personalized gift from Family Matrix.
Start designing personalized birthday gifts for everyone on your list! This is a unique birthday gift idea that could be utilized for a 60th birthday, 50th birthday, 40th birthday, or whatever birthday you are celebrating. Imagine how your loved one's will feel knowing that you cared enough to give them a personalized birthday gift like Family Matrix. By spending just a few minutes on the site, you can create a unique birthday gift, the best birthday gift. It's a great birthday gift for women of all ages.
Family Matrix is a fantastic gift for moms. Imagine designing personalized birthday gifts for mom that include all of her children's names in a crossword style design. Family Matrix shirts are perfect for birthday gifts for dads too, birthday gifts for the wife, 80th birthday gifts or ANY special birthday gift.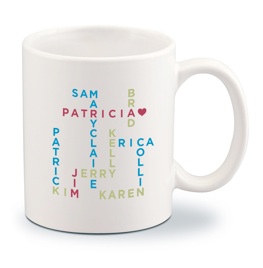 You could design a Family Matrix mug that would be the BEST birthday gift EVER for your loved one, or design a mug to commemorate a first birthday. Design a Family Matrix tee for a child's birthday party and give them out as party favors. Kids love to see their names on these shirts.
This birthday gift is so special because it is personalized and also because it looks like you spent a lot of time creating it, when you actually spent ONLY a few short minutes on the Family Matrix web site. Remember Family Matrix when choosing your next special birthday gift for your loved ones.