Personalized Christmas Gift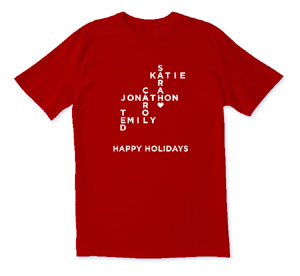 What a Christmas present!
It's that time of year, when you are looking for that unique gift idea for the Holidays. It's tough finding a Christmas gift for some of your loved ones, especially grandparents. Family Matrix has a Christmas gift that is sure to spark that holiday feeling. A Family Matrix tee shirt, sweatshirt or mug is the perfect unique Christmas gift.
Maybe you have family and friends in town for the holidays - what fun it is to have the Christmas gift that includes each and every one of them!
A shirt or mug that includes every one of your loved one's names in a unique crossword design will lift everyone's holiday spirits.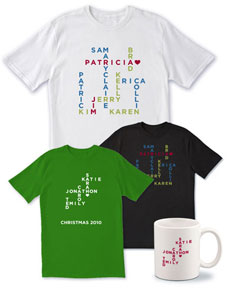 Give a personalized Christmas gift of Family Matrix, which shows you took the time and effort to give the Holiday gift that evokes emotion and togetherness.
What a great Christmas present - and no one will know that it took only a few short minutes on the Family Matrix web site to produce a personalized Christmas gift with such an enormous spiritual impact.