Anniversary Gifts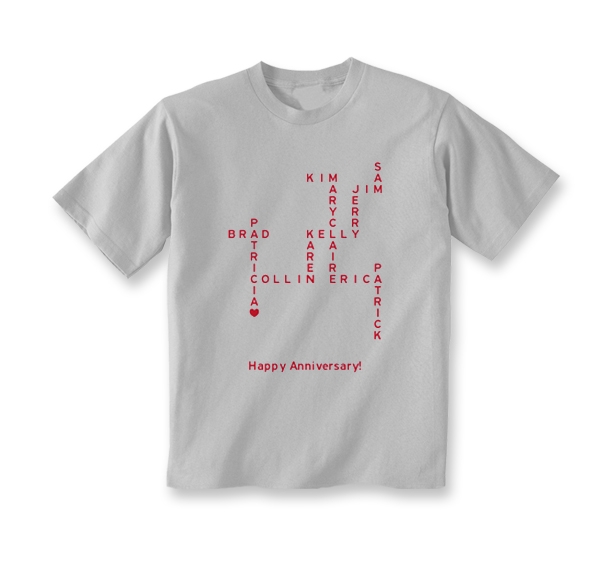 What a GREAT anniversary gift idea!
An anniversary is a very special time in one's life and should be celebrated with a personalized anniversary gift to remember this day forever. Imagine everyone you hold dear at the anniversary party wearing a Family Matrix shirt or sweatshirt that displays all of your loved one's names, arranged in a crossword-style design.
A Family Matrix shirt or mug is an anniversary gift that will last a lifetime. Of all the anniversary gift ideas, this personalized anniversary gift will be sure to please all of the participants at the anniversary party. The crossword matrix design connects all of the anniversary participant's names and shows unity.
Having a Family Matrix tee shirt or mug as an anniversary party favor is an excellent anniversary party idea because the item commemorates a unique, once-in-a lifetime event! What a great gift to your loved ones who are celebrating an anniversary!
Your anniversary will be remembered forever because your anniversary party favor shirt, mug or stadium cup is a unique, personalized gift idea. The Family Matrix sweatshirt, tee shirt or mug is great for a 25th anniversary, a 35th anniversary, a 50th anniversary or even 6th anniversary or whatever anniversary that you are celebrating. Bottom line, Family Matrix is the PERFECT anniversary gift. Imagine how your loved one's will feel knowing that you cared enough to give them a personalized anniversary gift like Family Matrix. By spending just a few minutes on the site, you can create a unique anniversary gift, the best anniversary gift. It's a great anniversary gift for men and women of all ages. You have family and friends in town for the anniversary? Show them how fun it is to have the anniversary gift that includes each and every one of them!
A shirt or mug that includes every one of your loved one's names in a unique crossword design shows you took the time and effort to give the anniversary gift that evokes emotion and togetherness.
What a great anniversary present - and no one will know that it took only a few short minutes on the Family Matrix web site to produce a personalized anniversary gift with such an enormous spiritual impact.